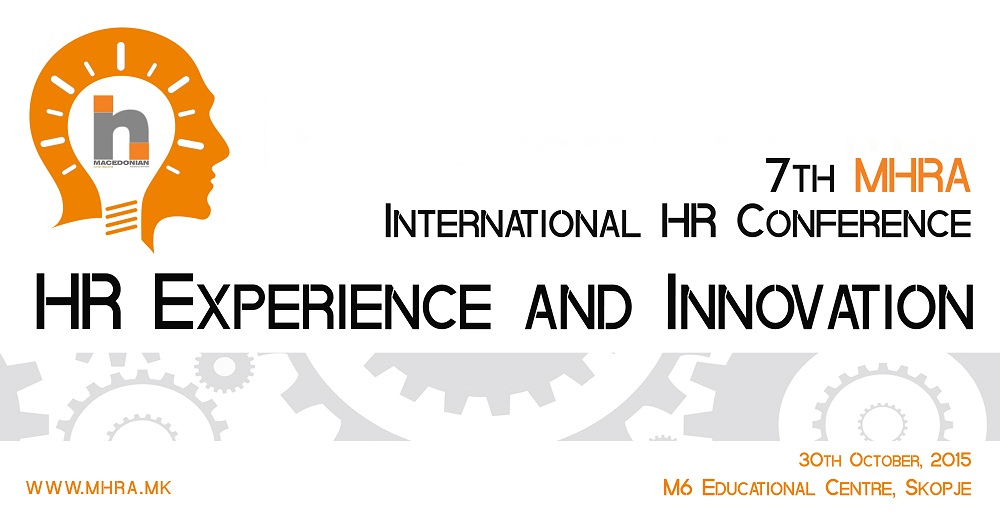 The biggest HR Event in Macedonia
7th International HR Conference and HR Expo:
"HR Experience & Innovation"
30th of October at M6 Educational Centre in Skopje

In the last few years, widely known fact is that business leaders consider the ability to innovate as one of the key challenges for achieving competitive advantage, and as one of the main factors for the overall long-term success of the organization. Taking into consideration the findings of the many studies on this topic testify that the foundation and the progress of any successful company through innovation is mostly as a result of a proper strategy that addresses the people and human capital.
Thereby the HR professionals play a critical role in finding talents, and motivating them to engage in their work and devote to the organization by rewarding them and incentivizing them to express their talent supported by an innovative corporate culture.
EXCLUSIVELY on this event you will have the opportunity to find out about the international HR experience innovative practices applied by Best HR professionals from the region and beyond:
Mihaela Smadilo,

Global Business Leadership Partner,

IBM

(Croatia) / the Prometheus HR Manager of the Year, 2014;
Vesna Vodopivec, Director of HR & Organization Development,

NLB

(Slovenia);
Joke Land, Psychologist, Systemic Specialist, NLP Master Trainer, Bureau

Land & Partners (Netherlands)
Dr. Leslie Szamosi, Professor, The University of Sheffield International Faculty, City College (Greece) -

Managers Academy, Skopje

and
Korneliya Veneva, HR

Manager and Business Partner for South-East Europe at

SAP

(Bulgaria) / HR manager of the Year 2014
Beside the presence on the event of the well-known HR practitioners and HR experts, an EAPM's representative and Mr. Spiro Ristovski, Deputy Minister from the Ministry of Education and Science of the Republic of Macedonia are going to give opening speeches.

During the conference MHRA traditionally is organizing an HR EXPO where the consulting companies, training centers, universities, head-hunting and recruitment companies and agencies for temporary employments, publishing companies etc, will have opportunities to present their services for the business sector representatives and the HR professionals.
DO NOT MISS THIS OPPORTUNITY!

Book your sit and be part of the event where prominent HR managers are going to share and impart their knowledge and experiences in Macedonia, to escalate your businesses and help you be even more successful.


The event is supproted by