Are you ready for the greatest HR Event for this year?
MHRA presents to you the 8th International HR Conference & HR Expo 2016 in Skopje
EMPLOYEE ENGAGEMENT & FUTURE COMPETENCIES
FOR ECONOMIC WELL-BEING!
13-14 October, 2016 Skopje Marriott Hotel

Greeting message & Event Introduction
Dear friends,

Each and every day we face with changes around us. Small organizations grow into big corporations, breakthroughs and innovations happen, new methods and ways of efficient working are found and yet all of these changes are made by people who believe, devote themselves and are passionate for their work. We are more than aware that the organizations need the right people, with the right competencies at the right time in order to succeed to develop and achieve their mission. The engagement of the people is in close correlation, that helps accelerate productivity, innovation, customer service, quality, and many other desired business results and fuel financial growth. Overall, what company matters the most is that the right people drive the organizational performance and in a long-run they create and develop the well-being of the economy.
The challenge is how to find these people? How to retain them? How to keep them engaged? How to nurture their talents? How to develop and set the right competencies program in the organization?...This is exactly our goal for the event, to discuss and answer these and many more questions on these topics, through interactive sessions with prominent HR executives, business people and academia representatives as guest speakers, while sharing real, practical experiences from companies operating in different industries, in the region and beyond from Austria, Slovenia, England, Kosovo, Croatia, Greece, the Netherlands...

We cordially invite you to come and be part of the 8th MHRA International HR Conference and HR Expo "Employee Engagement & Future Competencies for Economic Well-being", that will take place on 13-14 October in the newly opened Marriott Hotel at the Skopje square, and to find out about HR practices and advices that can be implemented in your organizations as well.


We are looking forward welcoming you!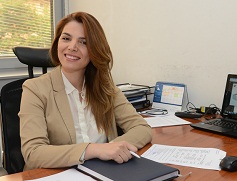 Hristina Lozanoska
President of
the Macedonian Human Resources Association

* Official language of the event is English.
** The organizer reserves the right to make changes in the program.
HR Expo 2016 & Sponsorship opportunities
The Event is supported by:

To learn more about these organizations please click here.