Visit us, join the MHRA's group on the following social networks and follow the latest information and updates with the Macedonian Human Resources Association :





The first dictionary of HRM terms prepared by MHRA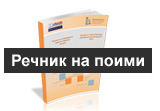 (2 MB)
The Real Impact of Talent - Global Survey 2015

Dear participant,

The World Federation for People Management Associations (WFPMA) invites you to be part of the largest global study on talent management focusing on smaller organizations (compared to larger ones) - the cornerstone and source of innovation in all economies worldwide.


Talent management is key to the performance of any-size organization, but research on the smaller hardly exists. WFPMA aims to provide national HR organizations and you with insights how successful smaller organizations manage talent.

The survey is anonymous and requires not more than 10-15 minutes. It can be interrupted and continued from the same computer. The survey comprises 26 short questions and an evaluation of good-practice topics.



We offer exclusive survey details to participants if you choose to provide an email address (optional) and answer >80% of the survey. We present the results in October 2015.


Thank you very much for your contribution!


Survey Link (English version) or https://www.research.net/s/impact-of-talent-2015-eng




MHRA is a full-fledged member of the European Association for People Management – EAPM.
The latest edition of the EAPM newspaper, you can check it here ...

HR Competency study
For the past twenty-five years the Human Resource Competency Study (HRCS) has answered the question, "What knowledge and abilities are necessary for successful HR professionals?" Round 7 of this study will help shape the future of HR and further define the contributions that HR makes to business success.